Stay As you were when you had left drawing series, 2010-2011
archival ink on paper, dimensions vary from 13" x 27" to 45" x 50", 2010 - 2011
In each of these drawings there is an extended staircase that leads you up through the image to a house that is sitting upon some form of a foundation. These stairways are cumbersome and to climb them would prove to be quite a challenge. I've used these passageways to represent the impossible journey back to the home that one longs for when they're homesick. Although I've used the image of a house to represent the "home' I am not referencing any particular structure but I am referring to a place of security, of comfort and a state of being that doesn't depend on actual location. Here, it is a place that one may long for during a time of crisis or instability.

These houses rest mostly on stable foundations. They're secure, although some could crumble at any moment. I wanted to acknowledge that one's immediate surroundings are never as stable as one might believe them to be and that this is also true of the nostalgic memory of home. When an individual is homesick, one tends to think that life before, in the past, was better than where one is now, in the present. This is because this person is re-creating a memory in light of their current situation. So the home one reflects on is not necessarily the one that he or she actually experience. For each time a person remembers something, they're re-remembering it. Recreating the memory to suit what they're going through in the present, and one won't realize that this past idea of home is a fairytale until one returns and finds that neither the individual nor the place is the same as the nostalgic recollection.


Powered by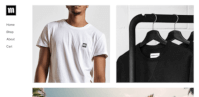 Create your own unique website with customizable templates.